Introduction:
A project like the Arnett can only be completed by a team of exceptional men and women. These great pioneers lent their time, talents and resources to complete the development phase of the project; they became the bank and financed the project. When all else fails, the truth is such. People are the greatest resource!!!
Background: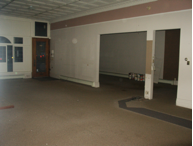 In January, 2007 I made a commitment to finish the project with or without the support of bank financing. As a last ditch effort, I had made a series of presentations and requests for support from Rochester's long standing community organizations and non-for-profits for help. They thought the project had merit but struggled to see how it would fit in their visions and budgets. By now, the looming financial crisis was also taking shape and the last thing on the minds of people was investing on Arnett Blvd.
As I sat on the first floor for hours (I think it was 10 degrees inside the building) in my suite, tie and overcoat alone and dejected, I had this great moment or revelation from God; it had to be Him or the adverse impact of exposure to the cold. He told me three things; I was His friend; to play the part that's needed to complete the project and to ask for resources not money. I thought the part that He was my friend was a big joke; here I was in the mist of professional and personal failure and I am somehow His friend. I had burned through all of my friendships and savings to keep this vision going and my family isn't fairing well either because I was only teaching as an Adjunct Professor at a local college and not a major bread winner any more. I would so torn. I think you get the picture. I have to admit, I have never really failed in my life because I was always creative and driven enough to find a solution but this was getting hard and there was no road map to follow; I'm sure by now I have also made a series of mistakes.
I went to the local mall to gather my thoughts. I went to purchase some music to keep me inspired; I ended up at Alpha and Omega and I looked through Israel Houghton's music for some reason and there was the message on the back of a CD; I am Friend of God.
The next days I could only return to the site for a few minutes at a time; the December reprieve from the cold and unprecedented warm weather ended and it was even colder than ever. The thought "play the part that's needed to complete the project" was echoing in my mind. I went to Target to purchase some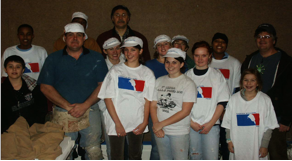 cleaning supplies and I saw a contractor's jacket on sale for $17.47. Of course it's not a real contractor outfit but I was interested in keeping warm not looking authentic and I never considered myself a contractor.
His last advice "ask for resources not money" was very hard to understand. I like you have been trained and conditioned to value money and its ability. I began to test the theory and started asking for what I needed to complete the project. From that point on until the grand opening in March, 2008, I was a contractor.
Let's read about the exception people, my heroes.
The Problem(s) / Opportunity:
Problems don't go away, they just get bigger as time passes on. Our ability to keep the bank at bay was helped by my friend. We were given until January, 2008 to complete the development and start generating rents / income to begin repaying the bank.
Beside buying time with the bank, the biggest issues were securing the raw materials and the talent to complete the skilled work. The conceptual cost estimates were approximately $350,000 to complete both floors; the first floor ($230,000) and the Second floor ($120,000).
My focused was taken away from the program development and on being a contractor. I also needed administrative help to keep track of the organizational requirements. By now the home front was feeling the stress of having me spend 8-10 hour days at the Arnett.
Solution
Volunteers – Lending Their Time
There are times in which the goal or project you are attempting to complete is greater than your own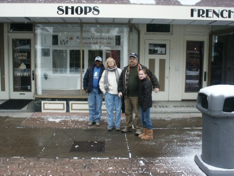 capabilities. I turned myself into a contractor and modeled what I was looking for others to do; to assist this great work by lending their time, talent and resources.
The first project was to create a White Board. I needed volunteers to help me build the board. I purchase the materials and the volunteers came from Project URGE; a ministry that connects churches and community needs. The group went on to help connect us with volunteers for over 10 more projects. In addition, they helped us to get a grant to complete components of the first floor.
We used volunteers to complete many phases of the development including the following:
Demolition
Walls
Lighting
Floors
Painting
Talented Professionals
There were a series of firms and professionals that lent their expertise to complete the first and 90% of the second floor.
Passero Associates – Building Assessment and Construction Estimates
SWBR – Building Design & Marketing Materials
Network Nights and the team from Buffalo
Hanlon Architects – Construction Materials, Design Services, Project Funding, Permit Process, Marketing Materials & Volunteers
Bill Grant Services – Construction Management, Plumbing & Flooring
Tomeno Heating – Heating Services
JP Electric – Electrical
Joe Bean Coffee Roasters – Coffee Vendor and Equipment
Amanda Pascatore
Business Partners – A.R.T.S., French Quarter Café, His Blends Coffee Shop & Kingdom Ventures, Lighthouse Copy Center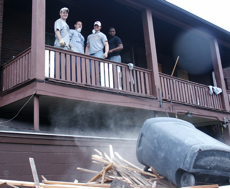 Resources
Of course we couldn't complete the project with just volunteers. A host of donors were instrumental in helping us. The RISEGO Board was instrumental in securing over $100,000 to fund the building development and ongoing operations from 2007-2010. Thank you for administrative and project support provided by Melinda Hensler, Rose Nichols, Beth Specht and Linda Shepard. Linda was instrument in coordinating our volunteers and completing various projects on the second floor.
Observation
You can't always wait on the opportunity; you may have to simply get moving and walk towards the goal.
Playing the part you have to motivate others can only be done for a limited timeframe, especially if its outside of their core skills set.
People are still the most crucial component of an economy.
We were able to complete all of the first floor and 90% of the second floor development. Sometimes our leg of a race is finished by others who able to complete the journey.
Reflection / Lesson Learned
Sometimes it takes being imprisoned to a vision for us to let go of our misguided beliefs that are enslaving us. I held people of influence and money (financing) as a key to completing the project. In reality, the people that invested gave their best.
Everyone has great value because the wealth that transcends all is time.
You have to be inspiring in order to inspire others. Your attitude and outlook can be a way to attractor to others looking for an opportunity to invest.
Thank you to all of the exceptional people; you are my heroes.